Our Story

VELOUS Footwear was founded in Portland, Oregon by footwear industry veterans that are passionate about health, staying active, and the outdoors, with years of experience leading product design, development, and business growth from industry-leading companies; adidas, Columbia Sportswear, KEEN Footwear, Nike, SAXX Underwear, Teva and more.
In the pursuit to find a better footwear recovery solution for all athletes from backyard campers to triathletes, Tim Bartels teamed up with industry veterans Brad Bischel and Damon Butler to combine their personal passion and industry expertise to develop and launch VELOUS Footwear.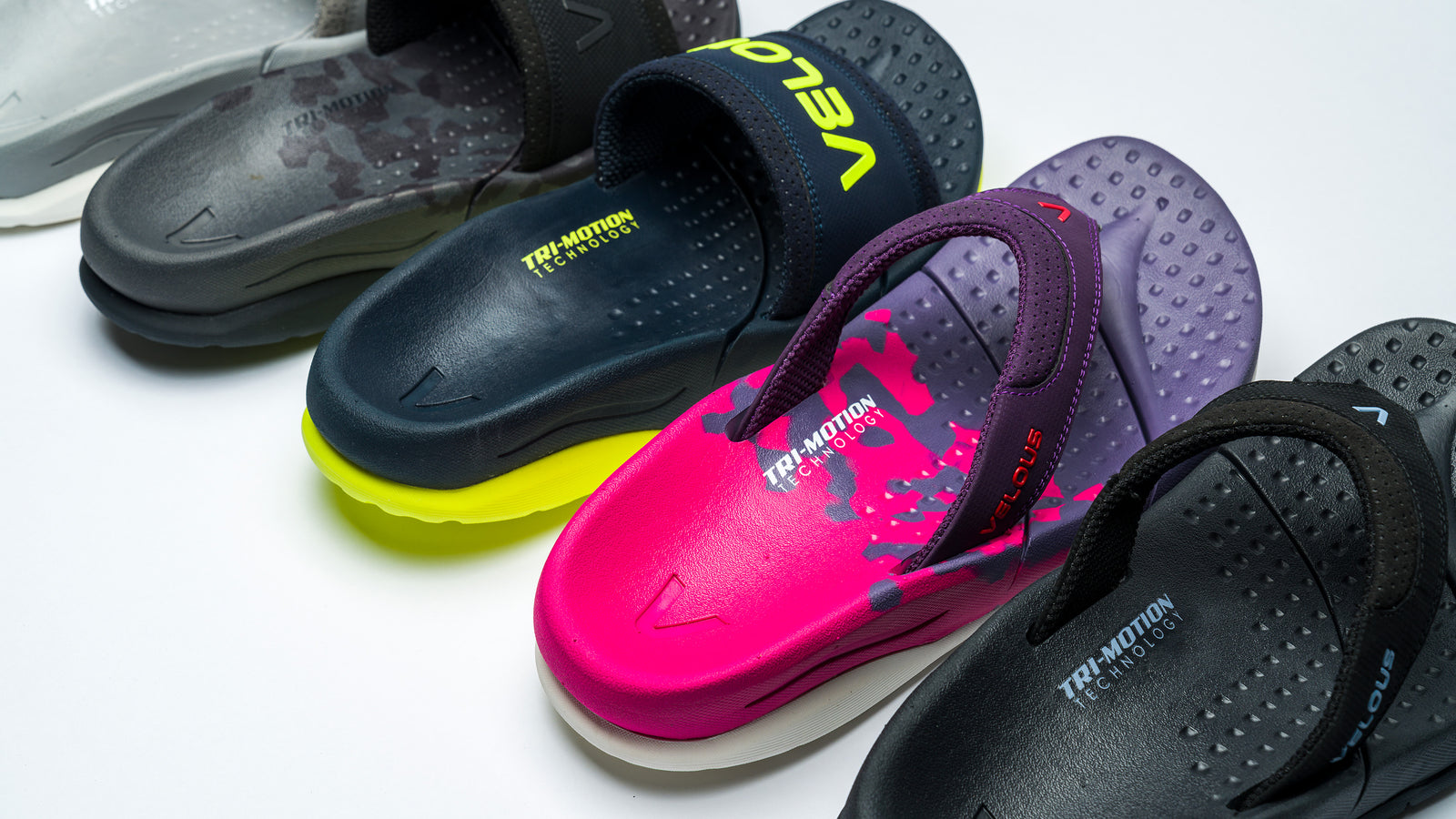 Tim, Brad and Damon
Our concept
After two years of extensive research, testing, and time on the west coast shorelines, the patent-pending Tri-Motion™ Technology and proprietary triple-density Foamotion Formula foam concept came to life.
Tri-Motion™ Technology focuses on each part of the foot strike motion, and integral to this unique concept is Foamotion Formula foam. Our amazing foam formula provides the exact under foot soft cushioning and bouncy bounce your feet need for optimal comfort to restore, revive, and reenergize.
Why the name VELOUS? It fit the concept. VELOUS comes from the word velocity, and means "the quality of movement". Health and movement is recovery in motion.
"Our recovery solution is game-changing. Try it out for yourself. If you don't agree, we offer hassle-free 30-day returns."

Tim Bartels, Co-Founder and CEO
Co-Founder & CEO
Tim Bartels
AKA our Go-to-Market Guru, Tim Bartels is the former CEO of SAXX Underwear, who helped develop the team and plan to lead SAXX from a small Canadian brand to an innovative industry leader. Bartels has a long history of leadership and business success in senior roles at premium brands in multiple channels including outdoor, action sports, athletic and sporting goods.

Prior to his role at SAXX, Bartels was Head of Global Footwear Sales at Columbia Sportswear where he oversaw all worldwide sales for both Columbia Footwear and Sorel brands. Bartels has also held executive roles with much success at KEEN footwear and DC Shoes, and spent 15 years at Nike in senior leadership roles.
Tim's go-to VELOUS? The Laguna Slide

Co-Founder, VP Product Creation
Brad Bischel
Brad is our Product Pilot. He has a stellar track record of product creation success with some of the best brands in the footwear industry. His deep product expertise includes the outdoor, athletic, and work channels, and has created multiple styles that are in the 'a million plus pairs sold' club.

Most recently Brad provided leadership at KEEN Footwear as the Head of Utility Product, leading the design and development teams through the creation process, identifying growth opportunities, and establishing the company's future Utility product direction.

Prior to his previous position at KEEN, Brad led the footwear merchandising team at Columbia Sportswear, and drove business and merchandising efforts at Warn Industries, and Nike.
Brad's go-to VELOUS? The Oceanside Flip
Co-Founder, VP Design + Creative
Damon Butler
Throughout his career, Damon has been the driving force for many commercially successful, patented, and award-winning shoes. This is why we dubbed Damon our 'Innovation Idol'.

Since 2006 Damon has run Bipedesign, a successful footwear design consultancy that has created designs with premier brands and clients including Speedo, Ahnu, UGG, Berghaus, Birkenstock, Teva, and more.
Prior to running his own consultancy, Damon spent years as a Senior Designer at adidas and Teva. While at adidas he designed the radical 'Hellbender' amphibious shoe, a commercial and innovative success. At Teva, he designed the 'Spoiler' sandal that sold several million pairs and helped revitalize the Teva brand.
Damon's go-to VELOUS? The Pacific Flip